Simi Prime is dedicated to providing the best training to each player and focusing on developing their skills individually. All of our teams allow for players to receive one-on-one coaching and high reps per game. Our teams allow serious minded players to challenge themselves against their peers from across the Southern California area. Prime offers travel team training for baseball ages 7-14.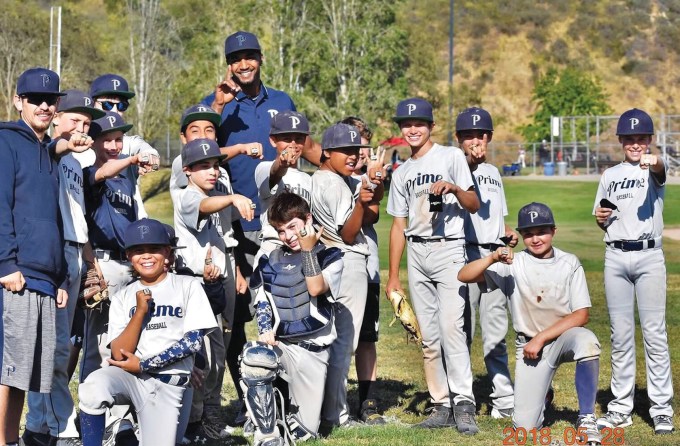 Headed by ex Pro Ball Players Blake Brewer and Kenny Lawson
Simi Prime Baseball Team Player and Parent Information:
As a part of the Prime All American Baseball program, you will get one on field practice, one hitting practice, one infield practice and one strength and conditioning workout held at the Strike One Baseball Academy each week. Players will also participate in at least one tournament each month as well as Sunday league games. Our professional coaching staff will also mentor each player as part of their development.
​
Practices:
Each team will have two indoor practices each week. One pitching/catching and conditioning session and one hitting/conditioning session. Teams will also have two outdoor practices twice a week. Being apart of the Simi Prime family is a big commitment for both the player and the family. Players need to be at practices. The success of the team depends on the dedication of each player.
​
Tournament and League Games
Tournaments and League Fees will be passed through to the players. An additional $10 per player fee will be added to tournament costs and $60 per player for League fees. This is to cover our coaching staff for the games. Prime will post a tournament schedule, including date, time, and location. Please be aware that these are subject to change. Check your schedule on our Prime TeamSnap for updated information.
​
Communication
Prime uses the app Team Snap to post scheduling, updates, and send out important messages. Each parent will need to download Team Snap. This service is completely free. We also encourage players who have cell phones to download the app as well.
​
Uniforms
Prime players will be required to purchase a team hat, 3 dri fit jerseys, and a navy blue hat. Players will also purchase team jerseys once the rosters have been finalized.
Pricing: $80 (3 dri fits and hat)
​
Team Payment
Prime team dues are $250 per month
​
Payment Process
We have three payment options available:
Pay at the Strike One Baseball Academy with cash, check, credit or debit card or pay online. Ask coach for a link.
Pay by cash or check. If payed with check please make the check to 'Strike One Academy'.
​
Payments are due on the 1st of each month, however there will be grace period extended to the 3rd of the month.
​
If we have not received full payment on the 3rd of the month a $20 late payment fee will be charged to your account. If payment has still not been received by the 6th there will be a $50 late penalty fee. Additionally, playing privileges for practices, games, and tournaments will be withheld until the account balance is fully paid off.
​
If you have multiple players there will be a 25% discount applied for the other siblings team dues only. This does not include tournament fees, league fees, and uniforms.
​
Cancellation
If for any reason a player decides to leave our program, a fee one month's due will be applied unless a written notice is given to either Coach Kenny Lawson or Coach Jason Colegrove two weeks before the next pay period. We have this policy in place because your players roster spot will need to be filled and our coaching staff needs sufficient time to find a new replacement on the team.